What is a Personal Statement?
The Personal Statement is sometimes referred to as the UCAS Personal Statement, and it is probably the most daunting part of the application process for many applicants, however, there are a lot of support resources available, and the key objective is to explain the relevant experience and intentions clearly.
Tone of Voice
The Personal Statement is a formal piece of writing, so firstly it is important to set the tone of voice and think about who will be reading your statement, what they be looking for depending on the course that has been applied to, any key entry requirements that need to be evidenced or explained, or any additional activities or qualifications you are working to in preparation for your start date.
How long is a Personal Statement?
A personal statement on UCAS is 4000 characters. This may seem a lot but it's actually around 500 words, so it will be quite concise and usually, the initial draft written is usually longer before it is refined.
Drafts
In many cases, the first draft is an opportunity to get all of the experiences and reasons for applying down. If your child is struggling to make a start then you can begin with a mind-map and then asking questions about the activities, experiences, modules, course of interest, or present life goals to get started. The below diagram from TheParentsGuideTo is a great starting point.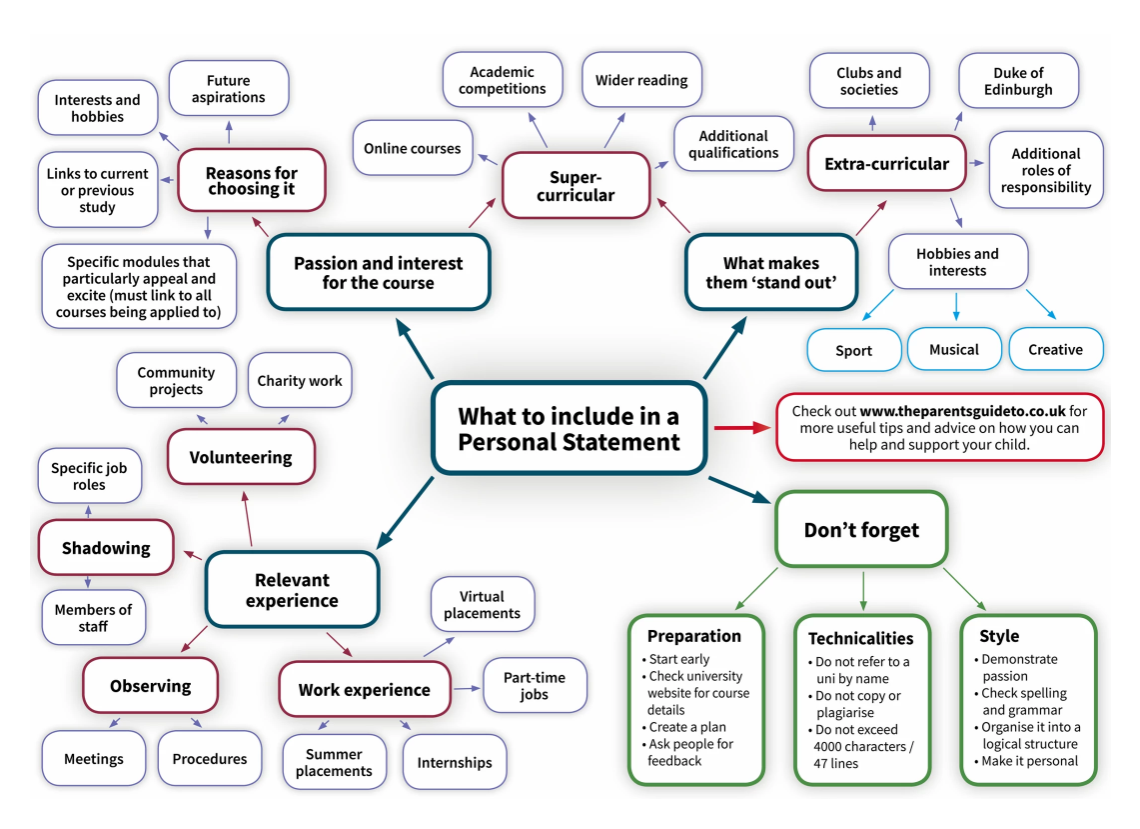 Standing out from the crowd
There are over 700,000 people per year who apply via UCAS, sometimes with up to 5 university choices which means that over 3 million UCAS applications need to be processed by university admissions teams across the UK. That's not to mention courses that accept direct applications too.
Admissions departments must consider the qualifications and Personal Statements before making an offer, particularly if the course requires experience or to evidence non-qualification criteria, such as health, medical, or teaching courses. These courses in particular are very competitive, and often have limited places, and it will be important to demonstrate personal attributes relevant to the career role.
You can find out more about our application and admissions processes on our application and admissions page.
What is #UniAsItShouldBe? A University that puts its students and their needs first through a supportive learning environment. Welcome to the University of Bolton.